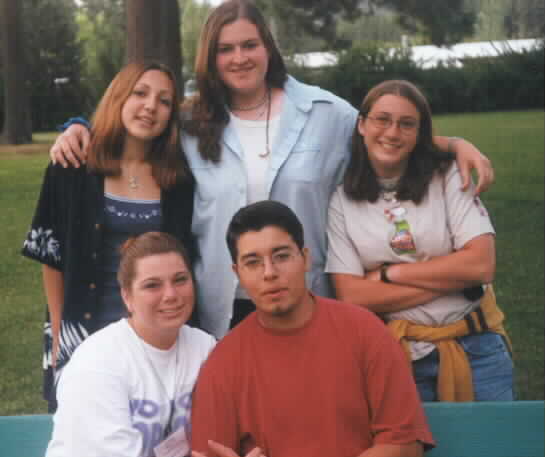 I'm the really tall one in the middle (I'm wearing tall shoes, so keep that in mind)

Since you're at this website to check out HANSON, I'll make 
this short.  I first want to say thanks for coming 
to my site and please remember to sign the guestbook or 
drop me an email to let me know what I can approve upon 
with this site.  

Well, to talk about me for a few minutes.  My name is 
Kristen (Kris).  I'm 17 (Junior in High School) and I 
live in Salinas, California (AKA "Boringville").  Besides 
HANSON I enjoy listening to The Moffatts, Santana, Smash 
Mouth, Korn, Alanis Morrisette (did I spell that right?), 
Madonna and a whole bunch more.  I also enjoy swing music 
(mostly Big Band Era), classical, and movie soundtracks 
(ie. Star Wars, Jurassic Park, Hook, etc).

I'm a huge Star Wars fan.  I have a lot of Star Wars stuff 
that I've been collecting (actually, my dad buys Star Wars 
stuff and I store it in my room for him so I claim it 
as mine).

I play trumpet in my school band (been playing for 8 
years) and I love every minute of it (BAND GEEKS ROCK!).

Ok, well I'm sure I've bored you long enough so please go 
and check out the rest of the site and SIGN THE GUESTBOOK.